Information on abortion
If you have made the decision for an abortion, three options are available to you. Each method of abortion is equally safe and effective. You should make the decision on your preferred method once you have been thoroughly informed on each method. In the following you will find a description of each method.
A termination of pregnancy without complications leaves no traces and therefore will not be detectable later on, not even by a doctor. It has has no negative influence on fertility or any future medical treatment or operation. Furthermore the termination will have no effects on your natural body functions f.e. menstruation, sexuality etc. It is common to all methods that fertility comes back very fast. Usually the next ovulation occurs after 2 weeks and you can get pregnant again if you do not use an effective contraceptive method.
Early development of a pregnancy
Up to 6 1/2 weeks calculated from the 1st day of the last menstruation cycle, no embryo can be visualized yet, therefore merely a gestational sac can be seen. A picture of a gestational sac in the fifth and the sixth week of pregnancy and a corresponding ultrasonic image are shown below.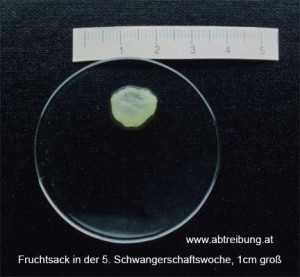 gestational sac in the fifth week of pregnancy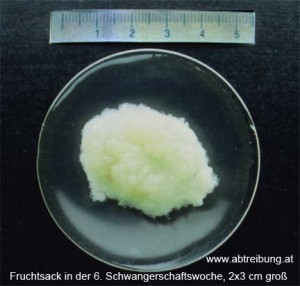 gestational sac in the sixth week of pregnancy

No embryo is observable therein, as it is not yet developed.
Further information on abortion
FIAPAC – International Federation of Abortion and Contraception Professionals and Associations with an extensive list of international links
www.fiapac.org
abtreibung.at
Detailed information on all aspects of the abortion of pregnancy including much background information (in german)
www.abtreibung.at
abtreibung-web.de
Infos on abortion in Germany
www.abtreibung-web.de (german)
SVSS
Swiss association for the legalisation of abortion of the pregnancy
www.svss-uspda.ch
Clinics in Holland
Beahuis & Bloemenhovekliniek in Heemstede bei Amsterdam
www.bloemenhove.nl
www.stisan.nl
Further information on the Emergency Contraception (Post-Coital or Morning after Pill)
The Emergency Contraception = Post-coital pill should not be mistaken with medical abortion, Mifegyne® the so called "abortion pill".
The Emergency contraception pill prevents a pregnancy after unprotected intercourse.
The medical abortion with Mifegyne terminates an already existing pregnancy.
ec.princeton.edu
Post-Coital Pill summarised by WHO
www.who.int
Further information on Contraception
Medicine-worldwide: Contraception
www.m-ww.de (german)
MEDintim
Shipment of Condoms, Diaphragms and cervical caps
medintim-shop.de
Austrian Association for Family Planning
www.oegf.at (german)
Profamilia
www.profamilia.de (german)
Further Information on the visit to a gynecologist
Frauenarztbesuch
www.frauenarztbesuch.de (german)
Information on sexuality
Loveline
www.loveline.de (german)
Information for women with physical handicaps
Profamilia Frankfurt
Information, consultation, doctoral counseling and gynecological check-ups for women with physical handicaps
www.forum.sexualaufklärung.de (german)